There is nothing more important than the air we breathe.
 That's why we created the SODAQ AIR to provide the crucial data we need as humanity moves toward a greener future.
Why use the SODAQ AIR?
It's no secret that humanity's progress has brought with it air pollution. This causes untold environmental damage and health issues that we're only now beginning to understand. Currently, we measure air quality with expensive, static monitoring stations. This only gives us a small piece of the overall puzzle. What if an innovative air quality sensor could give us real-time, location-specific data, that's affordable enough for wide-scale deployment? That's the SODAQ air. 
How does it work?
The SODAQ Air was developed by SODAQ and the TU Delft in partnership with the Province of Utrecht. The aim was to use volunteer cyclists to monitor air quality, and gather environmental data.
The SODAQ Air Quality Monitor (AQM) is primarily a certified particulate matter (PM 2.5) sensor. An easy-to-use, rugged portable or static monitoring station that measures:
PM2.5
temperature
humidity
shock
barometric pressure
has indicative values for PM1.0, PM4.0 and PM 10
and communicates over LTE-M or Nb networks.
At the moment of activation, the SODAQ Air quality monitor begins delivering PM2.5 levels and sends this data to our open dashboard, or any other data gathering service of your choice.
The latest version of the SODAQ AIR now shows real-time Particulate Matter readings using an LED Indicator. Lighting on the device changes colour depending on particulate concentration levels, bringing a new level on communication with the user. The SODAQ AIR is small, rechargeable, and easy to use. It was designed to comply with IP34 standards—splash-proof and dust-resistant. With the consistent rise in air pollution must come innovative air quality monitoring. That's the SODAQ Air—a cutting-edge solution to one of humanity's most pressing problems.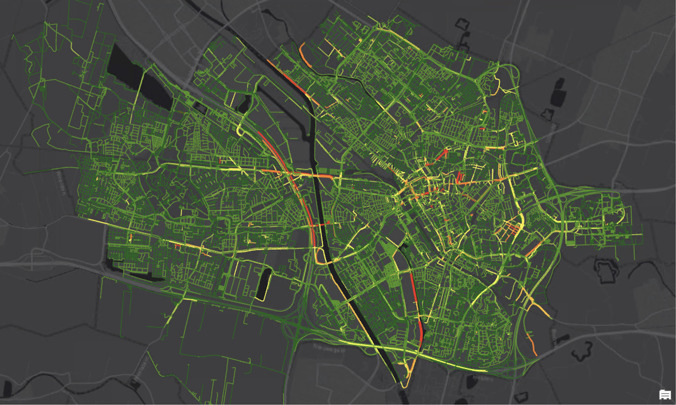 Join our Community of Clean Air Advocates
We all have a role to play in raising awareness about the ongoing air pollution problem. We've created a click-in solar charger that lets people build their own stationary air-quality monitoring system. Also, when attached to a bike, the SODAQ AIR gathers data about road quality using an advanced accelerometer. At SODAQ, we believe that through the collective will of the people, and with innovation, we can solve the world's most complex problems.