As published in Dutch newspaper TROUW, special edition 'Innovation in the Netherlands' on June 25, 2021 (translated from the original publication in Dutch).
SODAQ has the solution to making IoT sustainable
The Dutch company SODAQ knows exactly how to do things better and more sustainably in the relatively young world of the 'Internet of Things'. Vision and passion deliver unique products and a leadership role in a market that is growing exponentially.
The largest generator of data is the Internet of Things (IoT). The 'things' that communicate worldwide via the web do so more and more often with 'sensing & tracking' products from a Dutch company, SODAQ. The B2B company from Hilversum, The Netherlands, is one of the frontrunners in the relatively young IoT world. "The sector is experiencing explosive growth," says CEO Ollie Smeenk. "As a company, you only get to the front with a clear vision, lots of passion, and with many years of experience." The TRACK is an exemplary example of what happens when all of the aforementioned factors come together perfectly, says Smeenk, about his company's flagship product.
Sustainability Mission
SODAQ's ultimate goal is an IoT world free of batteries. SODAQ's sensing & tracking products, powered by alternative energy sources (including solar energy), also excel in low energy consumption. Smeenk: "A good example of such a product is the solar cell tracker, which contains a super capacitor whose capacity to hold electricity does not decrease , and can be used indefinitely. Attached to, for example, a container, the tracker transmits the location every 15 minutes, but also information about temperature and shocks that the container undergoes during the entire logistics process. As a company, you get data in a very sustainable way that you can immediately anticipate." International customer Bayer, which transports seeds all over the world, always knows the exact location of its containers thanks to the SODAQ trackers. Smeenk: "With that data it is easier to determine how many containers you need at a certain location to guarantee a delivery. Ultimately, this leads to fewer containers, which in turn has a positive impact on the environment. Not only is our product sustainable, it is also our explicit mission to make the world more sustainable with it."
Planning for a Long-life 
In addition to excelling in low power consumption and the application of alternative energy sources and alternative housing forms (for example recycled plastic), SODAQ occupies a unique position with the almost obvious choice for a long lifespan. Smeenk: "The technology in smartphones is aimed at buying a new one after two years. We are focusing on the opposite: a CO2-neutral manufactured sustainable product that lasts forever."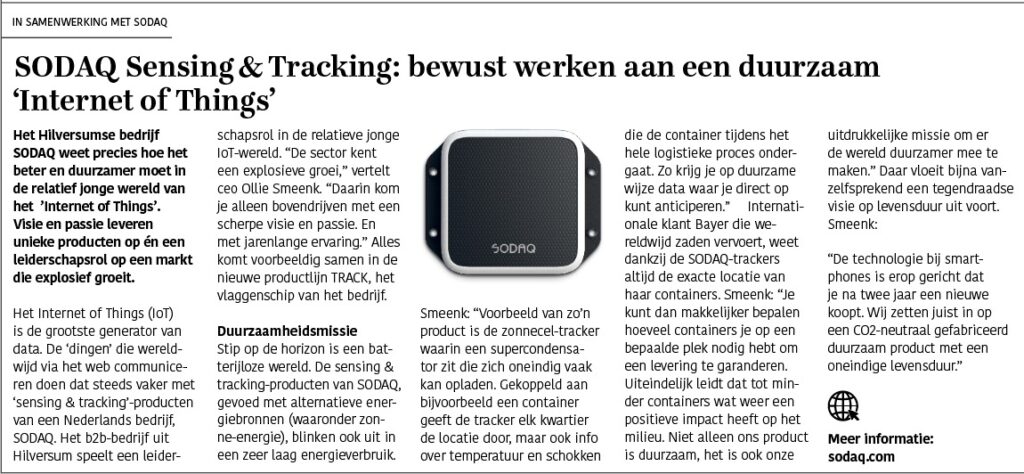 Original article as posted in TROUW