As published in Dutch newspaper De Financieele Dagblad on June 30, 2021 (translated from the original publication in Dutch).
SODAQ: World Leader in Sustainable IoT Sensing & Tracking Solutions
What started as a small operation of a father and son building sustainably powered weather stations in rural Africa, has grown into a company that is considered be one of the global frontrunners in sustainable IoT. 
"My father helped in Tanzania with the construction of the very first internet connection back in 1998", says Ollie Smeenk, CEO of SODAQ. "We started building measuring equipment for weather stations using sustainable energy sources. Due to the remote locations where our sensors were being deployed, we were forced to think outside of the box, and ended up using solar energy as the primary energy source to make weather stations. This approach has become the cornerstone to many of the IoT systems we have built."
Products
"Weather stations are no longer our core business," Smeenk continues. "We have built about two hundred IoT solutions based on renewable energy. In addition to the projects we do, we now also create products. Both according to our philosophy: the exponential growth in IoT has already been determined, but the sustainable innovations that lead to minimal energy consumption are essential for a better IoT world. The development of new technology is inevitable, and while we aspire to become a major player globally, our first priority will always be to minimize the effect of our innovations on the environment and world as a whole."
A good example of this in practice is SODAQ's latest product line the 'TRACK' which consists of two unique B2B asset tracking devices. The revolutionary solar-powered multifaceted sensor not only allows goods to be tracked across the world but definitively reduces the CO2 footprint of organizations that utilize it.
Planned permanence
SODAQ's products are made according to the ideology that once you buy the product, it should have an infinite lifespan. "In today's society, products across the board are designed to be replaced or upgraded. Already after a few years the products become obsolete or broken and can then be thrown away." SODAQ products use sustainable energy and (almost) never contain batteries. "The products that still have a battery in them consume considerably less (renewable) energy than any of the competitor products currently on the market and can therefore be used much longer. We strive for products that are manufactured CO2 neutral, have an infinite lifespan, and ultimately contribute to an IoT world without batteries."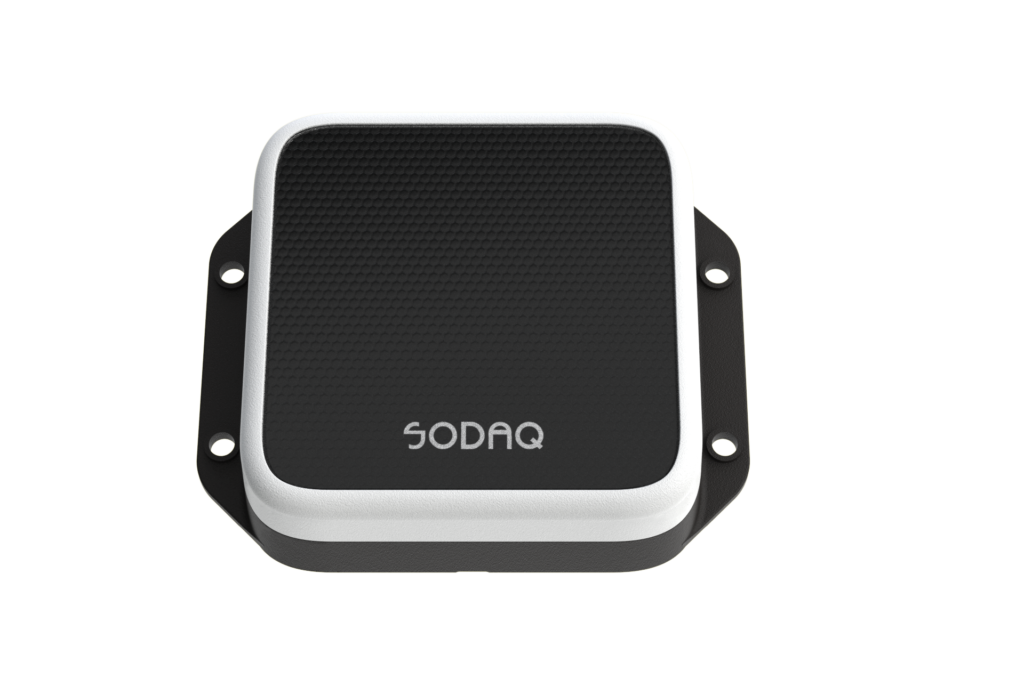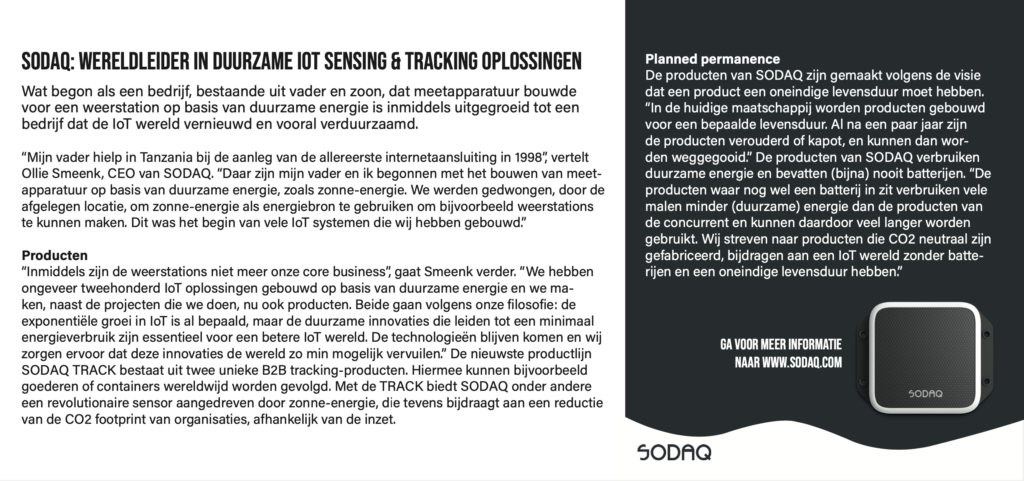 Original article as posted in De Financieele Dagblad